Compact Brushless Servo Motor Drive
The Compact Drive
The Easy series is a compact 3 phase brushless servo motor drive that comes in 3 form factors. These drives excel in simple applications where space and cost are driving factors. They are easy to set up using our intuitive Optio drive software that is free to download.
The 230VAC Easy requires an AC input voltage and is panel mount.
The 60 VDC Easy is a high current, very compact, and easy-to-use drive that takes a DC voltage and can be mounted a couple of different ways.
The 60 VDC daughter board version is our smallest drive that packs a punch. This is an OEM solution that requires its own interface/motherboard. A development board is available for prototyping.


3D CAD files found HERE.
Features
High Current
Very Compact
Easy Configuration/Setup
Open and Closed Loop Operation
Auto-tuning and Auto-phasing
Range
Bus Voltage: 24 - 320 Vdc
Cont. Current: 5 - 35 Arms
Frame Size 230 (L x H x W)
182 x 135 x 55 mm
Frame Size 60 (L x H x W)
140 x 110 x 30 mm
60 x 60 x 5 mm
Applications
Standalone/Multi-Axis
AGV Robots / Mobile Platforms
Mechanical Dimensions
Easy 230 Version
Easy 60 Version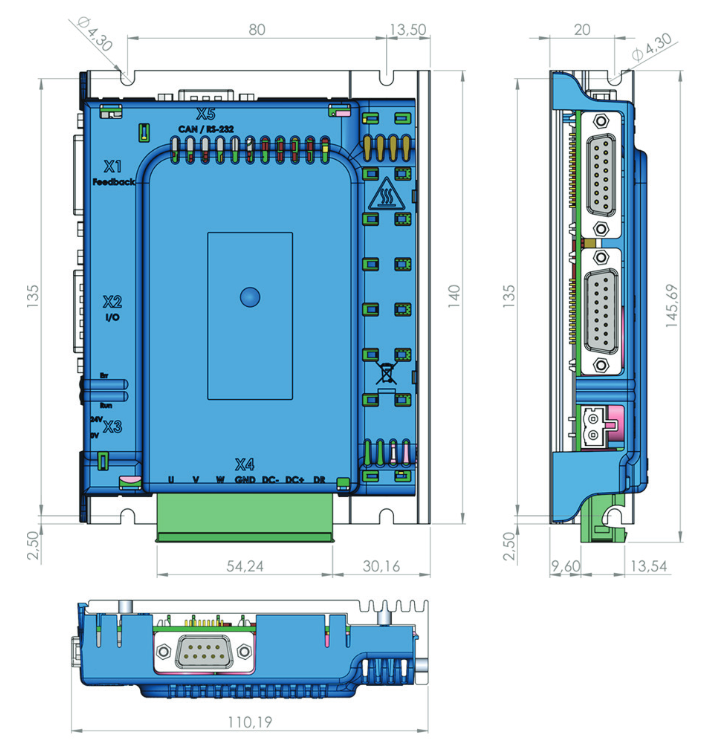 Easy 60 DB Version
3D CAD files found HERE.
Versions and Options
Drive Codification

Easy Series

Easy Ordering Code:

Easy Mating Connector Codes:

Easy Accessory Codes:

Easy External Braking Resistor Codes:

230Vac Easy Drives

60Vdc Easy Drives

See our mating cable page for the addon servo cable part numbers.
Accessories
Available Options
Mating Connectors (Power, Logic, Command)
Capacitor Box (230 V drive only)
Braking Resistors